*This event has been moved to THE BULL HOTEL, Bridport*. The start time is 6pm (not 6.30pm). Tickets bought for this event at the Electric Palace are still valid & will be accepted at The Bull Hotel event.
BUY TICKETS
IN PERSON : Bridport Tourist Information Centre
BY 'PHONE (TIC Ticket Line) : 01308 424 901
ONLINE : HERE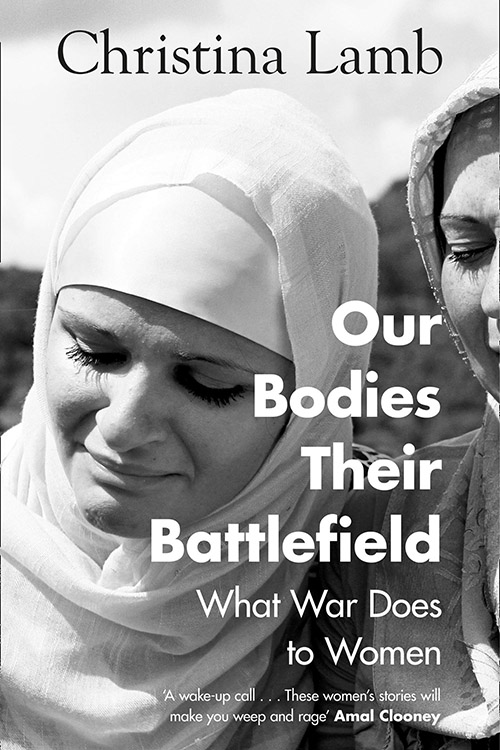 Our Bodies Their Battlefield
Christina Lamb
In conversation with Samantha Knights QC
With the recent, devastating and ongoing tragedy of Afghanistan, we have invited Christina to talk about her book: Our Bodies Their Battlefield – a searing and angry reckoning of the scale of assault against women as a weapon of war.
Christina Lamb has worked in combat zones for over 30 years moving between conflicts that affect the livelihood and wellbeing of all women.  Her earlier book Farewell Kabul considers the longest war fought by the United States in its history and by Britain since the Hundred Years War.
Will the current plight of the nation under the Taliban regime lead to more worldwide terrorism?
Christina and Malala Yousafzai, Winner of the 2014 Nobel Peace Prize, combined to write I Am Malala: The Girl Who Stood Up for Education and was Shot by the Taliban, a fascinating insight into what has gone before and what could re-ignite.
Christina Lamb is one of Britain's leading foreign correspondents and a bestselling author.  She has won 14 major awards including five times being named as Foreign Correspondent of the Year and winning Europe's top war reporting prize, the Prix Bayeux.
She is the author of numerous books including Farewell Kabul, The Africa House, Waiting for Allah, The sewing Circles of Heart and House of Stone.  She co-wrote international bestseller I am Malala with Malala Yousafzai and The Girl from Aleppo with Nujeen Mustafa.
She is a Fellow of the Royal Geographical Society, an Honorary Fellow of University College, Oxford and was awarded the OBE in 2013.
Author photograph : Francesco-Guidicini