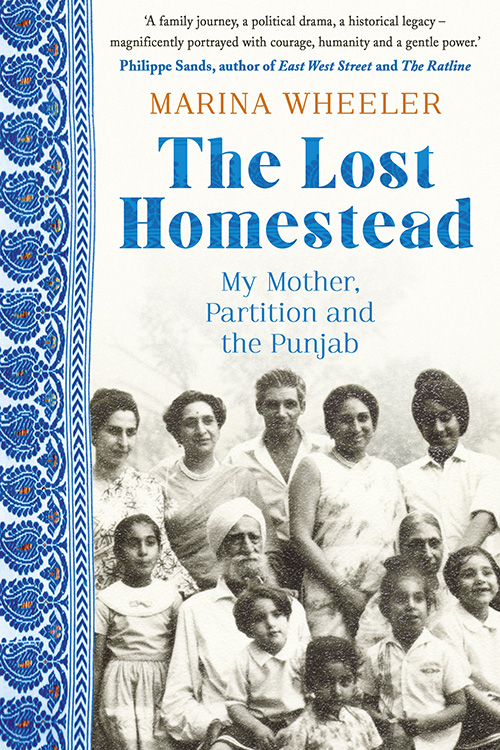 THE   LOST  HOMESTEAD
Marina Wheeler
In conversation with Susannah Simons
This is a story about loss and new beginnings, personal and political freedom.  Its central event is the Partition of British India in 1947 when Marina's mother and her Sikh family were forced to flee their home, never to return.  Some years after Partition, the family was again 'displaced' this time by choice when Marina's mother, Dip Singh, married Marina's father, the distinguished British journalist, Charles Wheeler, when he was the BBC's South East Asia Correspondent based in Delhi.
The book is a timely read.  It touches on global themes that strongly resonate today; political change, religious extremism, migration, minorities, nationhood, identity and belonging.
Marina Wheeler is an Anglo-Indian, London-based barrister specialising in constitutional and human rights law.  She was made Queen's Counsel in 2016 and also teaches mediation and conflict resolution. She write regularly for the UK Human Rights Blog as well as national newspapers on legal issues. Her mother, Dip Singh, met and married Marina's father, Charles Wheeler when he was the BBC's South East Asia correspondent in Delhi where he was the longest serving broadcaster until his death in 2008.  Dip Wheeler retired in 2002  as a researcher for the Amnesty International.
"A deeply personal story of identity, and a highly relatable journey for many in the diaspora…Wheeler taps a rich vein of personal history…..evocative….gripping…"
The Financial Times
"A timely read given the current reassessment of colonialism…….a memoir that weaves the story of India independence and the tragedy of the Partition with that of Marina's mother's own escape from a unhappy marriage……"
The Sunday Times - Christina Lamb