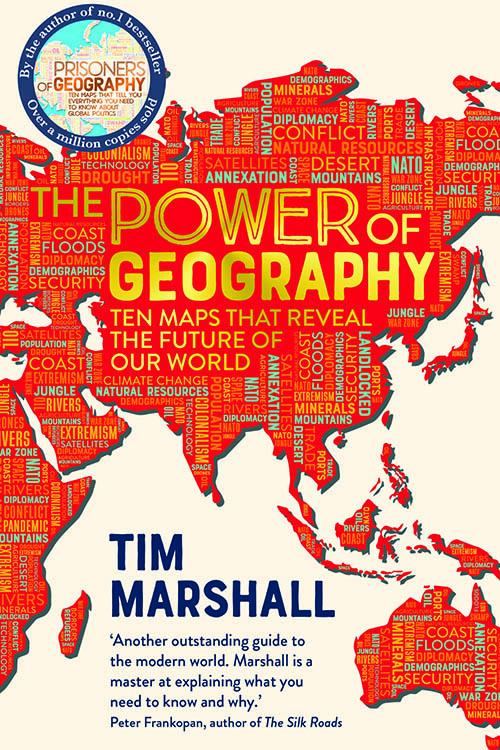 THE  POWER  OF  GEOGRAPHY Ten Maps That Reveal the Future of Our World
Tim Marshall
An Illustrated Talk
If you don't know what's happening in the world, look at a map.
Tim Marshall's global bestseller: Prisoners of Geography shows how every nation's choices are limited by mountains,  rivers, seas and concrete. Since then,   geography  hasn't changed but the world has.
In his revelatory new book, Marshall explores ten regions that are set to shape global politics in a new age of power rivalry.  Find out why Europe's next refugee crisis is closer than it thinks as trouble brews in the Sahel; why the Middle East must look beyond oil to secure its future, and why the eastern Mediterranean is one of the most volatile flashpoints of the 21st century; and why the Earth's atmosphere is set to become the next battleground.
Tim Marshall is a leading authority on foreign affairs with more than 30 years of reporting experience. He was diplomatic editor at Sky News, and before that was working for the BBC and LBC/RN radio.
He has reported from more than 40 countries and covered conflicts in Croatia, Bosnia, Macedonia, Kosovo, Afghanistan, Iraq, Lebanon, Syria and Libya.  His second book on global politics: The Power of Geography has won great plaudits and has been in the Sunday Times bestseller lists for months.